Basic Skills
Our website offers a comprehensive collection of resources designed to enhance students' fundamental skills in Algebra 2. By engaging with the materials provided, students can improve a range of essential skills that are crucial for success in advanced algebraic concepts.
One key skill that students can develop is a deep understanding of algebraic operations. They will enhance their ability to solve equations and inequalities, manipulate algebraic expressions, and simplify complex expressions. By practicing these skills, students will become proficient in working with polynomials, rational expressions, exponential and logarithmic functions, and more.
Another important skill that students can cultivate is critical thinking and problem-solving. Through the use of real-world examples and challenging exercises, students will learn to analyze problems, formulate strategies, and apply algebraic concepts to find solutions. They will develop their logical reasoning skills and the ability to think abstractly, enabling them to tackle complex mathematical problems with confidence.
Furthermore, our website helps students strengthen their ability to interpret and communicate mathematical ideas effectively. They will learn to read and interpret graphs, analyze data, and make connections between different mathematical representations. Additionally, they will enhance their ability to articulate mathematical reasoning and justify their solutions, fostering clear and concise communication skills.
For educators, our website provides a valuable resource for teaching Algebra 2 effectively. The diverse range of materials, including worksheets, practice problems, and interactive activities, can be used to support classroom instruction, individual practice, or homework assignments. The availability of ready-to-use resources saves time and effort in lesson planning, while the ability to customize materials allows for differentiation and meeting the specific needs of students.
In summary, our website offers a comprehensive platform for students to enhance their algebraic skills in Algebra 2. Through engaging with the provided resources, students can improve their understanding of advanced algebraic concepts, develop critical thinking and problem-solving abilities, and enhance their communication skills. Educators benefit from a wealth of resources to support their teaching and facilitate effective learning experiences for their students.
Basic Skills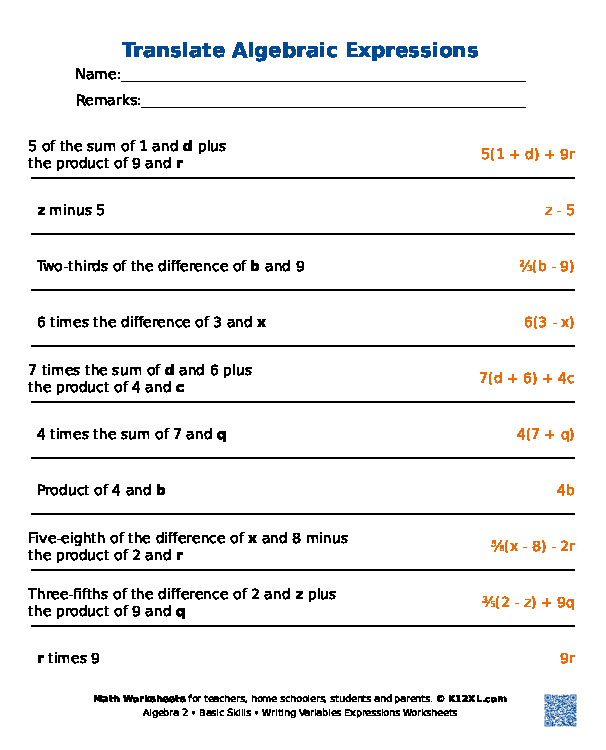 Welcome to our website, a hub for users seeking to enhance their algebraic skills. On this platform, students can delve into the intricacies of algebraic concepts, particularly focusing on writing variables and expressions in Algebra 2. Through a variety of interactive worksheets, exercises, and practice materials, students can refine their ability to construct and manipulate algebraic expressions, strengthening their problem-solving and analytical skills. The comprehensive resources available empower students to grasp the fundamental principles of algebra, building a solid foundation for advanced mathematical concepts. For educators, our platform provides a valuable tool to support their teaching efforts, offering ready-to-use worksheets, customizable materials, and assessments. Join us on this learning journey to unlock the full potential of algebraic expression writing in Algebra 2 for students and educators alike.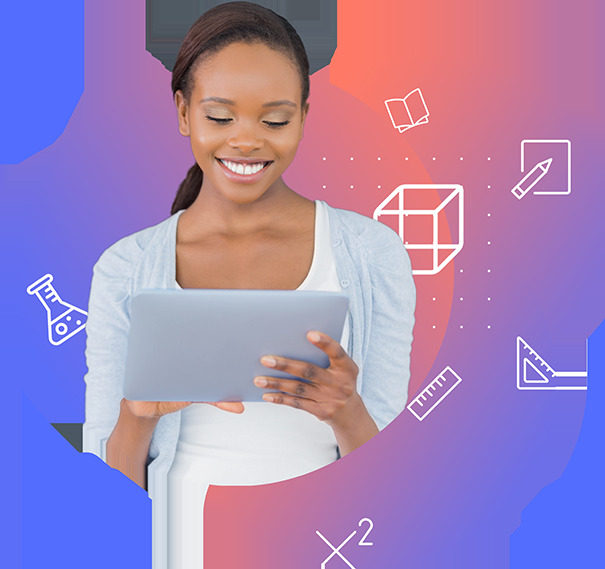 SIGN UP FOR THE
AD FREE EXPERIENCE
This site is free for the users because of the revenue generated by the ads running on the site. The use of ad blockers is against our terms of use.
TAKE A LOOK AT OUR PARTNERS
Download & Print Resources
Updated To The Latest Standards!
UNLIMITED ACCESS to the largest collection of standards-based, printable worksheets, study guides, graphic organizers and vocabulary activities for remediation, test preparation and review in the classroom or at home!
Visit Newpath Worksheets